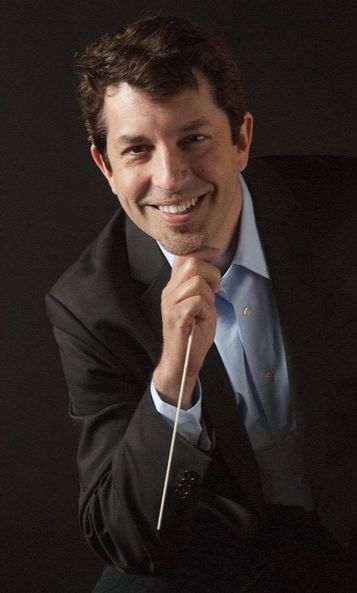 Gary D. White
Music Director, Conductor of Philadelphia Sinfonia (PS) and Philadelphia Sinfonia Chamber Orchestra (PSCO)
". . . [White] reveals himself to be a thoughtful interpreter who engages the musicians in discussions of history and period practice, while fostering an understanding of the creative artist. He encourages the ensemble to push beyond mere mastery of the notes to uncover what is at the heart of the music."

The Times of Trenton
Gary D. White, appointed Music Director and Conductor of Philadelphia Sinfonia in 1999, has educated, nurtured, inspired, and shaped a troupe of unseasoned but ambitious young musicians into one of the Delaware Valley's finest youth orchestras.
Since he took the podium, the Sinfonia program has grown to more than 170 members, competitively selected each year from an ever-more gifted pool of musicians attracted by White's conducting skills, and expanded into two full symphonic orchestras and a string chamber orchestra.
Under Maestro White's baton, the orchestras perform at venues in Pennsylvania and New Jersey that have included the Kimmel Center, the Republican National Convention, the Liberty Medal ceremony for then-Secretary of State Colin Powell, and the Lewis & Clark 200th Anniversary Conference. He has conducted Sinfonia in collaborations with Philadelphia Orchestra concertmaster David Kim, famed soprano Julianne Baird, jazz violin virtuoso Christian Howes, renowned jazz composer and pianist Stanley Cowell, Enchantment Theatre Company, and the celebrated Philadelphia Boys Choir, and led the orchestra on critically acclaimed tours of Italy, the Czech Republic, Hungary, Austria, Russia, Finland, Poland and Argentina.
An experienced musician, conductor, educator, adjudicator, and lecturer, White trained at the prestigious Pierre Monteux School for Conductors and Orchestral Musicians in Hancock, ME. Monteux alumni include legendary conductors Lorin Maazel, André Previn, and Sir Neville Marriner. On the podium Maestro White strives to capture the spirit of the school's founder, French-born conductor Pierre Monteux (1875-1964), who once said, "Conducting is not enough. I must create something. I am not a composer, so I will create fine young musicians."
With a conducting philosophy that focuses on the process as much as the final product of the concert, White cultivates a creative partnership with young musicians that empowers them to make passionate music, a hallmark of Sinfonia performances.
Maestro White has a Bachelor of Music degree from The New School of Music and a Master of Music degree from Temple University's Esther Boyer College of Music, both in Philadelphia. He studied conducting under Maestro Michael Jinbo at the Pierre Monteux School; Arthur Chodoroff, Professor Emeritus of Instrumental Music at Temple University; and Luis Biava, former Conductor-in-Residence of The Philadelphia Orchestra.
White is Music Director and Conductor of Orchestra Concordia in Wayne, PA. He has also been the music director and conductor of the Pottstown Symphony, cover conductor for the Delaware Symphony Orchestra, Chair of Music at Germantown Friends School, and is in demand throughout the tri-state area as a conductor of professional, college and youth orchestras including the Temple University Sinfonia, the Orchestra Society of Philadelphia, the Delaware Youth Orchestra, Delaware Youth Symphony, Delaware All-State Orchestra, All-Catholic Orchestra Festival, PMEA District 12 Intermediate Band Festival, Montgomery County Honors String Orchestra Festival, and the Rose Tree Pops. Recently, Maestro White was guest conductor of the professional chamber orchestra Philadelphia Festival Symphony Orchestra on their highly successful concert tour of China.
A professional French horn player, White has performed with the Fairmount Brass Quartet, Concerto Soloists, Lehigh Valley Chamber Orchestra, Pennsylvania Sinfonia, and the Harrisburg, Reading and Pottstown symphonies; has played as a substitute with The Philadelphia Orchestra; and is heard on numerous orchestra and chamber recordings.
In 2008, Maestro White was inducted into Temple University's "Gallery of Success" for his achievements in the music profession as a conductor, educator and performer.